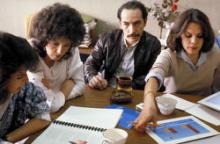 The purpose of this course is to promote data use for evidence-based HIV/AIDS program planning and improvement. By the end of this course, learners will understand concepts of data use and approaches to facilitate data use in HIV/AIDS programming.
Continuous Learning Points for USAID Staff
USAID staff who complete this course may claim 2 continuous learning points (CLPs) for A/CORs. USAID staff can visit OAA's Professional Development and Training pages for more information.   
Objective
Understand the concepts of using data for program management
Describe the process of how to prepare and plan for data use
Understand how data can be applied to decision making and program planning
Explain how to synthesize and communicate data to answer key priority questions
List ways in which data have been used
Credits
Collaborating organizations involved in the development of Data Use for Program Managers:
Abu Abdul-Quader, Centers for Disease Control and Prevention 
Lisa Basalla, Johns Hopkins University Center for Communication Programs
Lela Baughman, Centers for Disease Control and Prevention/ICF Macro 
Rebecca Cathcart, United States Military HIV/AIDS Research Program
David Davies-Deis, Johns Hopkins University Center for Communication Programs
Teresa Harrison, MEASURE Evaluation/Futures Group
Hanh La, United States Agency for International Development
Roger Myrick, Centers for Disease Control and Prevention
Tara Nutley, MEASURE Evaluation/Futures Group
We would also like to acknowledge the following technical reviewers for their valuable input:
Maria Au, United States Agency for International Development
Jorge Luna, United States Agency for International Development
Scott Moreland, MEASURE Evaluation/Futures Group
Greg Russell, Office of the U.S. Global AIDS Coordinator
Noreen Qualls, Centers for Disease Control and Prevention
Yamir Salabarría-Peña, Centers for Disease Control and Prevention
Nadia Solehdin, Centers for Disease Control and Prevention
Kristin Wares, United States Agency for International Development
Time
Published/Updated
Related Courses