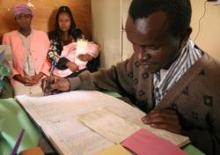 High quality data are needed to inform, monitor, and manage HIV/AIDS programs. This course will help participants understand what data quality is, why it is important, and what programs can do to improve it.
Continuous Learning Points for USAID Staff
USAID staff who complete this course may claim 2 continuous learning points (CLPs) for A/CORs. USAID staff can visit OAA's Professional Development and Training pages for more information.   
Objective
After completing this introductory course on data quality, students will be able to:
Define why data are important to programs
Describe "data quality"
List the seven dimensions of data quality
Identify the different types of double counting that impact data quality and the strategies that can be employed to avoid double counting
Credits
Collaborating organizations involved in the development of Data Quality include:
Centers for Disease Control
MEASURE Evaluation
Office of the Global AIDS Coordinator  
United States Agency for International Development
Time
Published/Updated
Related Courses