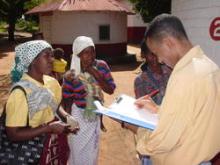 Reliable and timely information on cause-specific mortality is a critical part of identifying emerging health problems and a fundamental component of evidence-based health policy development, implementation, and evaluation. Efforts to measure population-level impact of global epidemics, including HIV/AIDS, and develop effective responses are complicated by a lack of dependable mortality data in countries with the highest burden of disease. 
This course will provide participants with a basic understanding of the importance and usefulness of mortality data and introduce a range of approaches to collecting such data. The advantages and limitations of the various methods will also be discussed.
Continuous Learning Points for USAID Staff
USAID staff who complete this course may claim 2 continuous learning points (CLPs) for A/CORs. USAID staff can visit OAA's Professional Development and Training pages for more information.
Objective
After successfully completing this course, learners will be able to:
List reasons for using mortality surveillance data
Describe prominent models for obtaining mortality surveillance data
Understand the advantages and limitations of each collection type and begin to identify which work best under certain circumstances
Understand the uses of mortality surveillance data in developing and evaluating programs and/or policies
Recount examples of successful collection of mortality surveillance data
Credits
Collaborating organizations involved in the development of Mortality Surveillance Methods & Strategies include:
David Davies-Deis, Johns Hopkins University Center for Communication Programs
Renee Lewis, U.S. Census Bureau
Loraine West, U.S. Census Bureau
We would also like to acknowledge the following technical reviewers for their valuable input:
Stirling Cummings, MEASURE Evaluation/University of North Carolina
Robert Mswia, MEASURE Evaluation/Futures Group International
Time
Published/Updated
Thursday, December 1, 2011
Related Courses