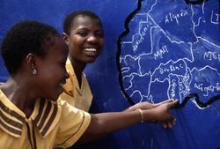 It is important to harness geography to manage, analyze, and leverage spatial data effectively when planning, monitoring, and evaluating health sector programs. Through this course, learners will gain an understanding of how to use spatial data to enhance the decision-making process for health program implementation in limited resource settings.
Objective
By the end of this course, the learner will - within a public health context - be able to:
Understand the basics of spatial data and its role in decision making
Explain why geographic data and tools are important for decision makers
Understand geography as a unifying framework and GIS as a tool to collect, link, analyze, visualize, manage, and share data and information
Address the challenges and explore the opportunities of working with spatial data to produce geographic information and geographically based knowledge
Distinguish between the different tools used to collect, analyze, and manipulate geographic data
Communicate with technical specialists to develop program-specific geographic products
Credits
Collaborating organizations involved in the development of Geographic Approaches to Global Health include:
Taiwo Abimbola, Centers for Disease Control and Prevention
Maria Au, United States Agency for International Development
Rachel Blacher, ICF Macro
Carlos Castillo-Salgado, Johns Hopkins University School for Public Health
Steeve Ebener, World Health Organization
Nate Heard, Humanitarian Information Unit, United States Department of State
Mary Kratz, United States Department of Defense
Libby Skolnik, Johns Hopkins University Center for Communication Programs
John Spencer, MEASURE Evaluation
James Stewart, MEASURE Evaluation
Becky Wilkes, MEASURE Evaluation
We would like to acknowledge and thank the following experts for reviewing the course:
Maria Au, USAID
Shabani CISHAHAYO, TRAC Plus, Rwanda 
Mike Emch, Department of Geography, UNC-Chapel Hill
Sabri GMACH, Regional Office of Public Health, Bizerte, Tunisia
Eric Green, NYU/Population Council
Janet Heitgard, CDC
Carl Kinkade, CDC
Jorge Luna, Mailman School of Public Health, Columbia University
Michelle Monroe, US Department of State, Malawi
Patrick NAPHINI, Ministry of Health, Malawi
Adama NDIR, Ministry of Health and Prevention, Senegal
Greg Russell, OGAC
Virginia SIMUSHI, Zambia
Hilary Spindler, UCSF Global Health Institute
For general inquiries about the Geographic Approaches to Global Health, please email MEASURE Evaluation by clicking here.