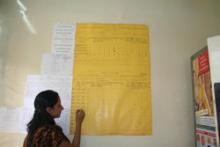 Monitoring and Evaluation (M&E) is an essential component of any intervention, project, or program. This course will help you understand what M&E is, why it is important, and the basics of what it entails.
Objective
At the end of this course, you will be able to:
Identify the basic purposes and scope of M&E

Differentiate between monitoring functions and evaluation functions

Describe the functions of an M&E plan

Identify the main components of an M&E plan

Identify and differentiate between conceptual frameworks, results frameworks, and logic models

Describe how frameworks are used for M&E planning

Identify criteria for the selection of indicators

Describe how indicators are linked to frameworks

Identify types of data sources

Describe how information can be used for decision-making
Credits
This course has been created by the following staff at MEASURE Evaluation:
Nina Frankel
Anastasia Gage
Erin Luben
Kavita Singh
Thanks to the reviewers who provided their insights and suggestions: Sian Curtis, Gustavo Angeles, Charles Teller, Virginia Lamprecht, Jim Shelton, Anupa Deshpande, and Fran Tain.
Indispensable help was also provided by Chris Davis from the INFO Project and Teresa Tirabassi from Multimedia Services at the Johns Hopkins Center for Communication Programs.
Time
Published/Updated
Course Authors:
Nina Frankel, MEASURE Evaluation

Anastasia Gage, MEASURE Evaluation
Course Managers:
Nina Frankel, MEASURE Evaluation
Related Courses