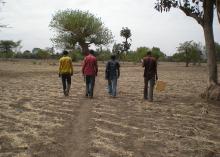 For thirty years, The DHS (Demographic and Health Surveys) Program has collected data on fertility, family planning, maternal and child health, nutrition, HIV, and malaria. This course will provide an overview of the DHS project so that program staff, policy makers, and researchers are better able to use the data to make evidence-based decisions.
Continuous Learning Points for USAID Staff
USAID staff who complete this course may claim 2 continuous learning points (CLPs) for A/CORs. USAID staff can visit OAA's Professional Development and Training pages for more information.   
Objective
By the end of the course, the learner will be able to:
Identify the different surveys in the The DHS Program and the topics they cover
Understand the steps in conducting a DHS survey
Recognize the advantages of a population-based, representative survey
Comprehend basic DHS tables, including understanding basic DHS terminology and identifying patterns in the data tables and figures
Understand the difference between DHS estimates of HIV prevalence and sentinel surveillance
Use DHS data to inform programs and policies
Use DHS online tools to access data and information
Credits
We would like to acknowledge and thank the following experts for reviewing the course:
Sarah Balian, The DHS Program
Jim Shelton, USAID
Madeleine Short, USAID
Laurie Liskin, The DHS Program
Shusmita Khan,  Eminence, Bangladesh
Sara Mazursky, JHU/CCP
We would also like express our appreciation to the following people for their help in developing the course:
Joy Fishel, The DHS Program
Abibata Handley, The DHS Program
Trevor Croft, The DHS Program
 
Time
Published/Updated
Course Authors:
Erica Nybro, The DHS Program
Course Managers:
Libby Skolnik, CCP
Nandini Jayarajan, CCP
Related Courses