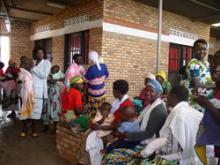 **THIS COURSE IS BEING REVIEWED AND UPDATED. LAUNCH DATE IS TBD**
This course will explain the benefits of integrating family planning (FP) into HIV services and provide guidance on how to establish and sustain the delivery of integrated FP/HIV services. The course addresses FP/HIV integration from a health systems perspective, covers contraceptive methods for people living with HIV (PLHIV), and describes how HIV care providers can help their clients make informed reproductive health decisions and access appropriate care, including both voluntary family planning and safer pregnancy/conception services. Finally, the course includes special considerations for addressing the family planning needs of key populations affected by HIV, including adolescent girls.
Objective
After completing this course, you will be able to do the following:
Articulate the benefits of integrating FP into HIV services
Identify interventions or modifications that need to be introduced throughout the health system to support the integration of FP and HIV services
Discuss special considerations for FP use among PLHIV and key populations 
Understand how to help clients of HIV services, including key populations, make informed and voluntary reproductive health decisions and access appropriate services
Audience
The intended audience for this course is public health program planners, managers, and health care providers who are interested in integrating family planning and HIV services to better meet the reproductive health needs of clients living with HIV.
Credits
The September 2, 2015, version of the course is an expanded update of the FP/RH for People Living with HIV course that was originally published in December 2009. The authors are very grateful to the reviewers who provided their insights and suggestions:  
Jen Mason, USAID
Nithya Mani, USAID
Lindsey Miller, USAID
Richael, O'Hagan, USAID
Tabitha Sripipatana, USAID
Sarah Yeiser, USAID
The course was once again updated on May 22, 2017 to take into account the World Health Organization's 2017 guidance statement on Hormonal contraceptive eligibility for women at high risk of HIV.
Time
Published/Updated
Course Authors:
Morrisa Malkin, FHI 360
Rose Wilcher, FHI 360
Tricia Petruney, FHI 360
Irina Yacobson, FHI 360
Course Managers:
Related Courses
Related Toolkits