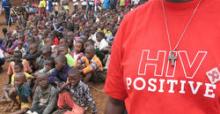 The purpose of this course is to provide an overview of the HIV/AIDS legislative and policy requirements that govern HIV and AIDS activities. 
The primary audience for this course is people who manage and/or implement USAID-supported HIV and AIDS activities. It is important for USAID staff, implementing partners, and host country government representatives to understand the requirements.  
The course will specifically review the requirements for:
Medically accurate information about condoms
Prostitution and sex trafficking
Conscience Clause
Working with faith-based organizations (FBOs)
Working with military, police, prisons, and other law enforcement personnel
Voluntary medical male circumcision (VMMC)
HIV and AIDS and family planning (FP/HIV) integrated activities
Abortion and Involuntary Sterilization Restrictions
Objective
After successfully completing this course, learners will be able to:
Describe the existing major legal and policy requirements applicable to USG HIV and AIDS activities;
Understand the application of the legal and policy requirements that impact FP/HIV integrated programs;
Describe actions for ensuring compliance with the requirements; and
Know whom to contact for further information or assistance and how to access resource materials.
Credits
The course was last updated in January 2020. However, to ensure that certificates of completion remain up-to-date, the course will be taken down at the end of December and republished in early January every year. 
We would also like to acknowledge the following technical reviewers for their valuable input:
Lindsay Miller, USAID/Office of Population and Reproductive Health
Elaine Menotti, USAID/Office of Population and Reproductive Health
Richael O'Hagan, USAID/Office of Population and Reproductive Health
Kimberly Cole, USAID/Office of Population and Reproductive Health
Mary Vandenbroucke, USAID/Office of Country Suppport
Tamara Bates, USAID/General Counsel 
Rahel Beigel, USAID/Office of HIV/AIDS
Peggy D'Adamo, USAID/Office of Population and Reproductive Health
Kim Ahanda, USAID/Office of HIV/AIDS
Time
Published/Updated
Course Authors:
Meghan Mattingly, USAID/Office of HIV/AIDS

Mary Catharine McKeithen, USAID/Office of HIV/AIDS
Course Managers:
Related Courses