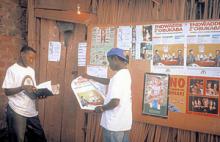 **THIS COURSE IS BEING REVIEWED AND UPDATED. LAUNCH DATE IS TBD**
Understanding how to better design, implement, and evaluate HIV prevention programs for key populations remains a critical need for field programs. There is a strong desire in the field to remain current on key HIV prevention topics, including HIV prevention for key populations, and yet it is a challenge to obtain information because of logistical and time constraints.
By educating field staff and country partners in best practices for HIV prevention programming with key populations, this course will equip learners with a solid understanding of the basic knowledge, skills, and approaches required to design and implement HIV prevention programs for key populations.
Objective
At the end of this course, the learner will be able to:
Identify key populations at greatest risk of HIV infection
Describe the importance of understanding the local context in planning prevention activities
Understand the role of specific interventions for key populations in the HIV response
Describe other critical factors related to effective prevention programs for key populations
Credits
The course authors would like to acknowledge the following technical reviewers for their valuable input:
Gillian Anderson, CDC
Maria Au, USAID
Tonia Poteat, OGAC
Kristen Wares, USAID
Time
Published/Updated
Course Authors:
Clancy Broxton, USAID
David Hales, Consultant
Course Managers:
Jarret Cassaniti, CCP
Lisa Mwaikambo, CCP
Related Courses