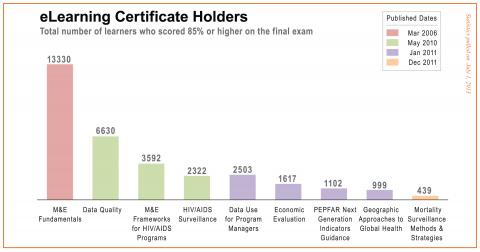 Since 2007, USAID's Knowledge for Health (K4Health) and MEASURE Evaluation projects have collaborated closely to develop a comprehensive suite of monitoring and evaluation (M&E)-related eLearning courses for USAID's Global Health eLearning Center as part of the PEPFAR eLearning Initiative. As of July 1, 2013, this evolving collaboration has produced nine online courses that have resulted in 32,534 successful course completions (as displayed in the graph above).
These online courses respond to the expressed needs of M&E officers, program officers, and others who actively seek knowledge and skills that enable them to monitor and determine program effectiveness and communicate these findings to inform program and policy decisions. 
In addition to the development of M&E-related online courses, both K4Health at the Johns Hopkins Bloomberg School of Public Health Center for Communication Programs (JHU∙CCP) andMEASURE Evaluation at the University of North Carolina at Chapel Hill, Carolina Population Center (UNC-CPC) have embraced mobilizing these online courses as one component of an array of blended learning approaches to implement and promote multi-pronged capacity building strategies that are flexible, cost-effective, and sustainable. Working together and independently, K4Health and MEASURE Evaluation have tested and identified strategies that begin to successfully bridge the challenges of transferring highly technical M&E-related skills by pairing the self-paced eLearning solutions with in-person training opportunities to augment each through offering the eLearning solutions as prerequisites, reinforcement assignments, refreshers, or complements to in-person workshops, synchronous webinars, or online presentations.
To explore the full range of the M&E-related eLearning courses that are currently available on USAID's Global Health e-Learning site, follow the course links below:
*Note that the M&E Fundamentals course was developed prior to 2007 and was not originally developed as part of the PEPFAR eLearning Initiative, but K4Health has been instrumental in its ongoing maintenance and accessibility.
To learn more about the K4Health's and MEASURE Evaluation's eLearning collaboration, read the full Collaboration Spotlight.
For questions or additional information, contact Lisa Mwaikambo at lbasalla@jhuccp.org or Melissa Dunn at mdunn@unc.edu.