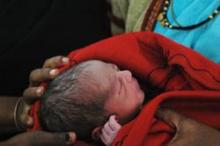 Thirty-eight percent of under-five deaths occur in the neonatal period, i.e., the first four weeks of life, accounting for about four million deaths annually, three-quarters of which take place in the first week of life. Around 31% are due to infection.
This course will orient the participant to key issues in the prevention and treatment of neonatal infections, emphasizing recognition and management of bacterial infections at peripheral facilities and in the community, and issues of global public health importance.
Objective
By the end of this course the participant will be able to:
Explain the importance of newborn infection as a cause of neonatal mortality
List the risk factors for newborn infection and discuss how neonates acquire infection
Describe the differences between a newborn and an older infant with respect to infections, and some of the difficulties in recognizing infection in the newborn
Identify the key signs of sepsis in the newborn
List the major strategies for preventing newborn infection
List some strategies and approaches for the treatment of bacterial infections in the newborn, at peripheral centers and in the community

Explain possible programmatic approaches at the facility and community levels

Describe key program examples for preventing and treating newborn sepsis
Credits
The course authors would like to thank Don Thea, BUSPH, Department of Global Health for reviewing the course and sharing his insightful feedback. 
Thanks go to those who developed and reviewed the first edition of this course in August 2009.
Course Authors:
Indira Narayanan, 

BASICS Project

Goldy Mazia, 

BASICS Project

 

James Wolff, BASICS Project
Technical Reviewers:
Jim Shelton, USAID

Lily Kak, USAID

Paul Crystal, BASICS Project

Barbara Deller, ACCESS Project
Time
Published/Updated
Wednesday, October 22, 2014
Course Authors:
Rachael Bonawitz, BUSPH, Center for Global Health and Development

James Wolff, BUSPH, Department of Global Health
Course Managers:
Nandini Jayarajan, CCP
Lisa Mwaikambo, CCP
Related Courses
Related Toolkits