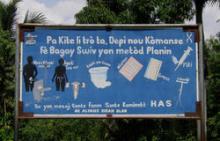 Ensuring access to information and affordable quality services for a wide range of contraceptive methods within family planning (FP) programs is vital to enabling women and men to achieve their reproductive intentions, whether they choose to delay a first pregnancy, space pregnancies, or limit further childbearing.
When provided within the context of informed choice, and informed and voluntary decision making, long-acting and permanent methods can help individuals and couples to achieve their reproductive intentions safely, conveniently, and effectively.
LA/PM use also results in substantial contributions to the attainment of national health and development goals, including the fifth Millennium Development Goal (MDG) - Reduce Maternal Mortality.
The purpose of this e-learning course is to present the rationale for making LA/PMs more widely available in the contraceptive method mix of national FP programs and identifies key challenges as well as proven and promising programs.
Objective
By the end of this course, you will be able to:
State the benefits of LA/PMs and the rationale for greater investment in LA/PM services

Understand the gap between reproductive intent and contraceptive behavior and its impact on programming

Identify key challenges and strategies for LA/PM programming

K

now where to find and access LA/PM resource materials for continued learning
Credits
The RESPOND Project wishes to thank the following individuals for the valuable guidance and assistance they provided in the development of this course:
Ellen Brazier, Jaweer Brown, Marie Rose Charles, Maureen Clyde, Kimberly Cole, Holly Connor, Linda Ippolito, Roy Jacobstein, MD, Barbara Jones, Michael Klitsch, Elkin Konuk, Jan Kumar, Sara Mazursky, Patricia MacDonald, Sara Malakoff, Erin McGinn, Cassandra Mickish, Weronika Murray, Lois Schaefer, Jim Shelton, Lynn Van Lith, Melanie Yahner, and John Yanulis.
Time
Published/Updated
Course Authors:
The RESPOND Project, EngenderHealth
Course Managers:
Lissette Bernal-Cruz, The RESPOND Project
Related Courses
Related Toolkits