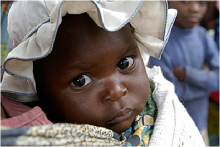 Evidence has shown the importance of integrated care to promote optimal child development. Addressing only one area of development without others can prevent children from reaching their full developmental potential. This course will provide learners with an understanding of the importance of providing integrated care for young, vulnerable children, particularly in the context of HIV, and will discuss components and key steps of integrated early childhood development (ECD) programming.
The Integrated ECD Programming for Young Vulnerable Children course is the second course of six courses in the ECD series which aims to engage staff of implementing agencies involved in existing ECD programs, focusing on vulnerable children affected by HIV, or facing other challenges such as chronic poverty, displacement, or conflict.
The ECD series is based on the Essential Package: Holistically Addressing the Needs of Young Vulnerable Children and Their Caregivers Affected by HIV and AIDS, which was developed by the Inter-Agency Taskforce on HIV and ECD led by Save the Children and CARE in collaboration with the Consultative Group on Early Childhood Care and Development, the Centers for Disease Control, and ChildFund with funding from the Conrad N Hilton Foundation.
Objective
By the end of this course, the learner will be able to:
Recognize the necessity of integrated care for early childhood development (ECD) and its importance for optimal growth and development
Understand why integrated care for ECD is especially important in the context of HIV
Identify and explain the principal components of integration (health, food and nutrition, care and development, rights and protection, and economic strengthening)
Describe various examples of how these components may be integrated into ECD programming for vulnerable young children 
Describe the key steps in integrated ECD programming
Credits
The course authors would like to acknowledge the following technical reviewers for their valuable input:
Adele Clark, Catholic Relief Services

Colleen Farrell,

Save the Children

Maury Mendenhall, USAID

Lynette Mudekunye,

REPSSI

Nicole Richardson,

Save the Children

Shannon Senefeld,

Catholic Relief Services

Janet Shriberg,

USAID
Time
Published/Updated
Friday, September 6, 2013
Course Authors:
Ann M. DiGirolamo, CARE

Banthida Komphasouk, CARE

Swathi Sekar, CARE

Camille Smith, CDC

Kendra Blackett-Dibinga, Save the Children
Course Managers:
Related Courses