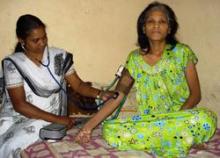 Cervical cancer is preventable and curable when detected at an early stage. However, cervical cancer remains the leading cause of cancer death among women in developing countries. Of 493,000 new cases reported each year, 83% are in the world's poorest countries. Most of these cases are discovered late  when treatment is less effective.
This course will provide essential knowledge about the burden of cervical cancer; effective and low-cost tools available to detect and treat precancerous lesions; information about the human papillomavirus (HPV) vaccine; links between HIV, HPV, and cervical cancer; and proven program approaches applied in low-resource settings to combat this preventable killer.
This course focuses on the use of visual inspection of the cervix with acetic acid (VIA) and cryotherapy in a single visit approach (SVA) in low-resource settings.
Objective
At the end of this course, the learner will be able to:
Recognize the global burden of cervical cancer and compare its incidence in more and less developed regions
Describe the natural history of cervical cancer, compare the role of HPV infection with other cervical cancer risk factors, and recognize the timing and phases of disease progression
Identify screening and treatment approaches and compare the advantages and disadvantages of these approaches
Explain why the single visit approach is an effective strategy for cervical cancer prevention in low-resource settings
Recognize programming elements that must be addressed to implement a successful cervical cancer prevention program
Identify lessons learned from cervical cancer prevention programs implemented in low-resource settings
Identify HPV vaccines currently available and consider their effectiveness; examine vaccine introduction strategies and factors to consider when introducing the HPV vaccine
Examine links between HIV, HPV, and cervical cancer; discuss implications for treating precancer in HIV-positive women
Credits
The authors would like to acknowledge the following peer reviewers for their valuable input:
Paul Blumenthal, Stanford
Megan Harris, Jhpiego
Jim Shelton, USAID
We would also like to thank the following individuals for their contributions to the course content and graphics:
Rebecca Fielding, Jhpiego
Megan Harris, Jhpiego
Renata Kepner, Jhpiego
Cecilia Llave, Philippine General Hospital
Maureen Reinsel, Jhpiego