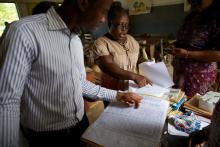 The Bureau for Global Health (GH) is responsible for ensuring that environmental considerations, requirements, and values are integrated into its program design and implementation processes. The environmental consequences of USAID-funded activities must be identified and considered by both USAID and the host country prior to final decisions to commence activities, ensuring that adequate environmental safeguards are adopted.
This training provides GH Program Managers, Agreement Officer's Representatives/Contracting Officer's Representatives, Activity Managers, and other stakeholders with an introduction to the GH Bureau Operating Procedure for Initial Environmental Examination (IEE) process and a roadmap for how to plan and implement health programs consistent with the Agency's legal requirements according to 22 CFR 216 and ADS 204.
Continuous Learning Points for USAID Staff
USAID staff who complete this course may claim 2 continuous learning points (CLPs) for A/CORs. USAID staff can visit OAA's Professional Development and Training pages for more information.   
Objective
Upon completion of this course, learners will be able to do the following:
Identify applicable legal and policy guidelines governing the GH environmental compliance program
Explain the importance of following the IEE process
Describe the GH IEE process
Understand the roles and responsibilities involved in the IEE process
Explain the relationship between environmental screening and Threshold Decisions
Describe how environmental monitoring and oversight should be performed
Identify where IEE documentation should be stored
Credits
The course author would like to thank Tellevate for all their help with pulling the content together and providing great feedback during the technical review process.