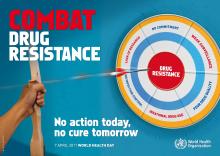 Antimicrobial resistance (AMR) occurs when disease-causing germs are able to withstand the killing or suppressing power of antimicrobial medicines. This phenomenon increases the global infectious disease burden and puts a larger strain on health systems.
Antimicrobial Resistance Part 1 introduced antimicrobial resistance (AMR) and explained the threat it poses to treating infectious diseases of major public health importance. The course also discussed how this serious problem affects people all over the world and presented some of the global health community's efforts to contain it.
This course, Antimicrobial Resistance Part 2, explains the major factors that contribute to the development and spread of AMR and the interventions available to address these factors. This course also discusses antimicrobials and vaccine development, the impact of globalization and societal shifts on AMR, and international strategies for containing AMR.
Objective
After completing this course, learners will be able to do the following:
List the major factors contributing to AMR
Summarize common interventions to address AMR
Describe the roles of various stakeholders in containing AMR, including health providers, patients, governments, and the international community
Credits
We would like to acknowledge and thank the following technical experts for reviewing the course: Anthony F. Boni and Jim Shelton from USAID and Martha Embrey and Kimberly Grimmick from MSH/PHT Group. We also acknowledge the review of the course, particularly the Knowledge Check/Recap sections, by Alison Corbacio of MSH/ASH and Kiley Workman, Claire Tindula, and Tierra Butler (intern) of MSH/SIAPS.
Time
Published/Updated
Wednesday, November 11, 2015
Course Authors:
Mohan P. Joshi, MSH/SIAPS

Malaika Ludman, MSH/SIAPS
Course Managers:
Amy Lee, CCP
Jarret Cassaniti, CCP
Related Courses