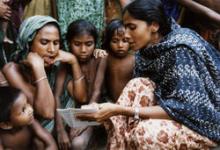 Community-based family planning (CBFP) brings family planning (FP) information and services to women and men in the communities where they live, rather than require them to travel to health facilities.
It is important to note that family planning is typically part of a broader community health intervention. This course focuses on the community based family planning aspect of a broader community health intervention.
The course orients the learner to the major strategies, benefits, and challenges of CBFP and to essential concepts for successful, sustainable programs. As you move through the course, envision yourself in the role of a program manager who is designing and implementing a CBFP program. 
Objective
By the end of the course, the learner will be able to:
Describe the purpose of community-based family planning

List the four goals of community-based family planning

Describe four strategies for increasing community access to FP and the benefits of each strategy

List barriers to behavior change

List the benefits of community involvement in planning community programs

Understand the importance of commodity supply for family planning programming
Credits
The authors of the Community Based Family Planning course would like to acknowledge Janet Meyers, CARE, and Susan Igras, Institute for Reproductive Health, for their work in laying the groundwork and initial development of this course.